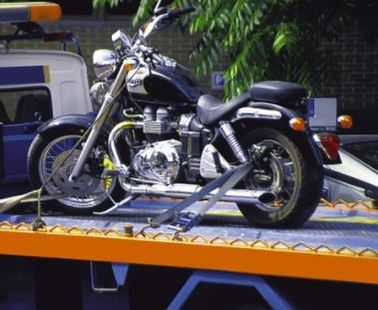 Arden Towing Company knows how valuable motorcycles are to the residents of Sacramento County. That's why we provide reliable flatbed towing services for all types of motorbikes, including Honda, Yamaha, Harley Davidsons, and Indians. Our team of experts has years of technical experience and provides the special care and attention that your bike deserves, giving you peace of mind when you need help with tows on the road.
Our flatbed trucks are the perfect solution for safe and stress-free motorcycle transportation. Equipped with hydraulic ramps, we make loading and unloading a breeze. We understand the importance of delivering your bike safely both emotionally and financially, which is why we take extra precautions to ensure top-notch safeguarding of all motorcycles entrusted to us. Trust us with moving your motorcycle today—you can always count on us.
We are aware of the stress and worry that often comes with motorcycle towing. That's why we guarantee quick and reliable assistance to get you back on the road in no time. Whether it's a flat tire, a dead battery, or any other issue, you can count on us to be there for you when you need us the most.
For top-quality motorcycle towing services in Sacramento County, look no further than Arden Towing Company. Our dedicated team of professionals is committed to providing excellent customer service and ensuring that your bike receives the care and attention it deserves throughout the entire towing process. Contact us today at (916) 237-1356 to meet all your motorbike towing needs in Sacramento, CA with confidence.
Riding In Arden
Motorcyclists in central California can attest to the beauty of the hills and valleys during summertime rides. However, if you find yourself in need of assistance, you can rely on our fast and dependable services to get your motorcycle back on the road in no time. Simply give us a call and we'll be there to help.
At our company, we have an unmatched level of expertise in motorcycle towing. No matter the size of your bike, our team can carefully load it onto a flatbed trailer and secure it with the necessary straps. We not only offer transportation services but also have repair shops available if needed. Additionally, our team has extensive knowledge in handling cars, trucks, buses, and other large vehicles.
If you're in need of dependable and speedy towing services, then you've come to the right place. Our committed team is here to assist you with all your transportation needs, whether it's for a car, truck, or trailer. We pride ourselves on providing excellent customer service, so you can expect nothing less from us. Don't hesitate to get in touch today and experience our friendly and reliable support for yourself! We look forward to hearing from you.
When Does Your Bike Need A Lift?
There are several reasons why your motorcycle may need a tow, including:
The gas tank is empty

Blown tires

Brake problems

Dead battery

Engine seizure

Chain or shaft drive issues
At our company, we understand that motorcycle issues can be stressful, but we're here to help make the process seamless and easy for you. Our team of experts has a deep knowledge of Sacramento County roads, ensuring that we can quickly respond to your needs and provide top-notch repair services. From tire troubles to engine problems, chain or shaft drive issues, or brake malfunctions, our dependable tow truck service will have you back on the road in no time. Contact us today to take the first step towards hassle-free biking.
Arden Towing Company: (916) 237-1356.